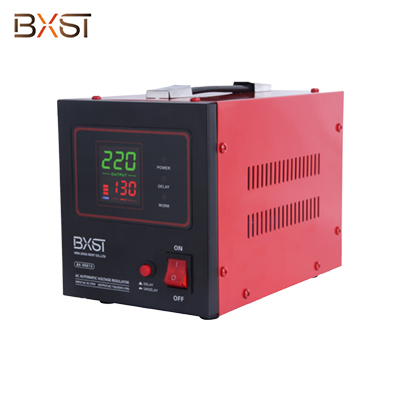 BX-VRD13 Automatic Voltage Regulator Stabilizer with On-Off Switch and Led
Brand: BXST
Model Number: BX-VRD13
Relay Control
LED digital display
Input voltage:AC 130V-270V/95V-270V
Frequency:50/60Hz
Output voltage:220V AC
Precision:220V+/-8%
Transformer: AL 100%
Short delay time:3-5sec
Long delay time:3-7min
Single phase
MODEL

INPUT

OUTPUT

FUSE/

CIRCUITBREAKER

Voltage

Freq

Current/Voltage

Freq

Rating

BX-VRD13

AC~130V-270V/95V-270V

AC~230V±5%/5.2A

50Hz

9Amp
All models are single phase.
Action/transfer time is less than 0.5 second.Waveform is sine wave, with no distortion.
Delaying output time is in the range of 3-5 minutes.
Build in protector will work when overloading (rate output current 125%),input voltage more than AC~280t5V/50Hz.
USAGE AND TECHNIQUE PARAMETER:
1.When the electricity fluctuates between AC~ 1O0V-260V/50Hz, Stabilizer can output the voltage at AC~230V t 5%/50Hz.
2.over voltage protection at AC~ 260V. Overload protection at 125% of Max rated electrical current.3.input voltage is AC~ 100V-260V/50Hz, output voltage is AC~230 t 5%/50Hz.
WORKING CONDITION
1. Indoor only.
2. 2.IP20.
3.Operating humidity can not over 90%; altitude can not over 2000 meters.
ICAUTION
If the external flexible cables of this Stabilizer is mangled, please use the special cord for replacing which should be.provided by the manufactory or its maintain organization
When install and use the Stabilizer which is without socket, should set a break device on the fixed wiring of buildings,which can cut off all the power poles (except the protection earth), break distance should be over 3mm and can break off the Stabilizer in save and convenience.
Avoid overloading
Do not use the Stabilizer beyond its maximum output power.
When connected to any appliance with built-in motor compressor, the starting power is generally several times of the appliance' s listed power rating. Make sure that the total starting power capacity of all connected appliance does not exceed the listed maximum output power of the Stabilizer. For color TV, calculate it twice as its listed capacity.
Make sure that the Stabilizer is of the same output voltage and frequency as the appliance's connected.
Make sure that the voltage of electrical source is within the listed range of the input voltage of the Stabilizer.
Always place the Stabilizer in an environment that is:
-well ventilated.
-not exposed to direct sunlight or heat source.
-out of reach from children.
-away from any flammable substance.
-secure and no risk of falling.