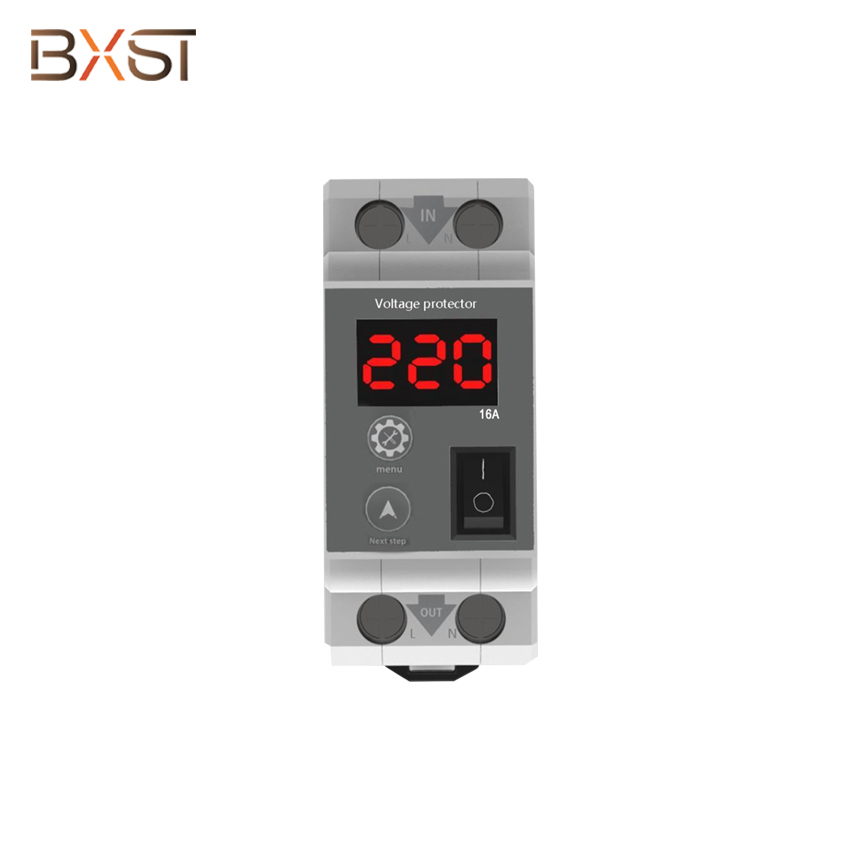 BX-V132 Electrical Mini AC Current Limiter Circuit Breaker with Led Digital Display and Adjustable Current

Brand: BXST
Model Number: BX-V132
Work voltage : 220V
Frequency:50Hz
Current : 1~63A(adjustable)
Under voltage: 120V
Over voltage: 260V
Delay time: 30S
4 Ways
1.Product Introduction
BX-V132 is a hot-sold low power circuit breaker in Middle East. It's applied for the appliances in home, hospital,school and public which power is less than 4796W.

2.Product Specification
Working voltage

220VAC

Frequency

50Hz/60Hz

Current

1-63A (adjustable)

Under Voltage Protection Value

145V-210V (adjustable)

Over Voltage Protection Value



230V-300V

(adjustable

)




Warranty

1year

Delay time

30s

Temperature




-5℃~+55℃




Weight




153g




Material

Flame retardant PC

Size

35.5*68.5*82mm

Package

34*55*28.5CM/white box/60pcs per carton

3.Product Features
1.Over-current Protection: When the current exceeds the set value of 1A 100pcs per carton automatically, it will cut off the power, digital flashing indicator will remind users to turn off the high-power electrical appliances to prevent fires, after troubleshooting, it will resume normal work.

2.Short Circuit Protection: Circuit breaker will come into self-protection when live wire/zero line be short circuit, the digital flashing indicator will remind users to prevent fires, after troubleshooting, it will resume their normal work.

3.DIN Rail Snap: Quick installation / removal, buckle design makes the product firmly stuck.
4.Visualized Window: The digital display shows the current working status clearly and conspicuously.

5.Flame Retardant Material: Be able to reach the experimental standards of level test of UL94-5VA.

4.Warning
1.The total power of connected electrical equipment shall not exceed therated power.
2.Do not use this product in damp or not ventilated environment.
3.Non-professionals do not open, change, repair the product.
4.Poor connection of the front terminal or poor connection of the plugmay cause a danger.