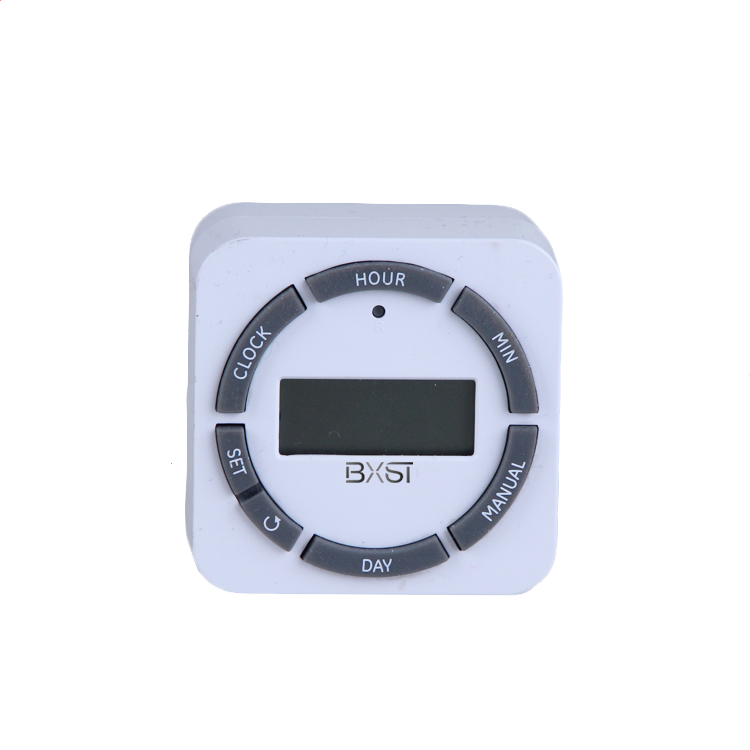 BX-T002 Mechanical Simple Operation Electrical Socket Timer with LED for Home Appliance


Brand: BXST
Model Number: BX-T002
Working voltage: 110-250VAC/50HZ-60HZ
Under voltage: 15A(2500W MAX)
Temperature: 10℃-70℃
Weight: 81g
Size: 64*63*65mm
1..Product Introduction
BX-T002 is a hot-sold timer in the American market.It applies for refrigerator, Rice cookers, drinking fountains, fish tanks and other low-power equipment which rated power is less than 2500W.
2.Product Specification
| | |
| --- | --- |
| Working voltage | 100-250VAC/50HZ-60HZ |
| Under voltage | 15A |
| Remote Distance | n/a |
| Time interval | min 15minutes for 24 hours |
| Temperature | -5℃~+55℃ |
| Weight | 81g |
| Material | Flame retardant PC |
| Size | 64*63*65mm |
| Package | 49*42*20.5CM/blister/60pcs per carton |
3.Product Features
1.Three operating modes of BX-T002
a.Reservation (for example: user can make reservation from 4:00 to 5:00 )
b. Loop (for example: user needs to power 15 minutes off 15 minutes on)
c.Timing (for example: user wants to power 3 hours, then power off)
2.Phosphor Bronze: with the advantages of good electrical conductivity, corrosion resistance and wear resistance.
3.Flame Retardant Material: Be able to reach the experimental standards of level test of UL94-5VA..
4.Warning
1.The total power of connected electrical equipment shall not exceed therated power.
2.Do not use this product in damp or not ventilated environment.
3.Non-professionals do not open, change, repair the product.
4.Poor connection of the front terminal or poor connection of the plugmay cause a danger.